Diggers (Katherine Dieckmann, 2006)
A somewhat lengthy absence from film blogging (and, truth be told, film watching as well), but now I'm back with a clear mind and a lot to write about.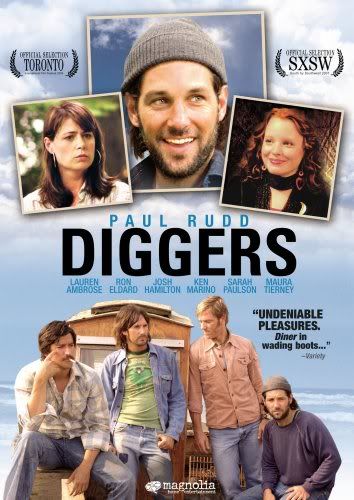 As a crazy-rabid fan of MTV's legendary The State, I have been anxiously awaiting Diggers, Ken Marino's feature-length screenwriting debut, since I first heard about it several years ago (it was just recently released in theaters and on DVD, as a part of Mark Cuban's day-and-date campaign). Not only is it written by Marino, it is executive produced by David Wain and stars everyone's favorite, Paul Rudd. I knew not to expect a full-out comedy, but what I didn't expect was such a subtle, heartfelt drama tinged with comedy about a place and time that are long gone.

Rudd, Marino, and Ron Eldard and Josh Hamilton play clam diggers (hence the terrible title) in 1970s Long Island, and is apparently based on Marino's childhood and his father's life. These men, bastions of a disappearing way of life, are being forced out of their waters by a large clam digging conglomerate. In the shadow of the destruction of their lifestyle, they deal with love, family, and loss. The film starts with Hunt (Rudd) and Gina's (Maura Tierney) father's death, and expands to include the lives and troubles of all four men. Marino is especially alternatingly hilarious and devastating as a man with four children, another on the way, and his job hanging in the balance. You can tell Marino has a genuine empathy and love for his character, and his performance is the film's best.

If you're a State fan, a Six Feet Under fan (Lauren Ambrose has a key supporting role as Hunt's big-city girlfriend), or really just want a movie with equal parts laughs and tinges of sadness, Diggers is for you. My only complaint about it is the fact that there is no real story, but that doesn't detract from the slice-of-life story of the film. Additionally, director Katherine Dieckmann shot the film beautifully, and shows uncommon insight toward this very male way of life. Recommended.

8/10




Labels: 2006, katherine dieckmann
Stumble It!